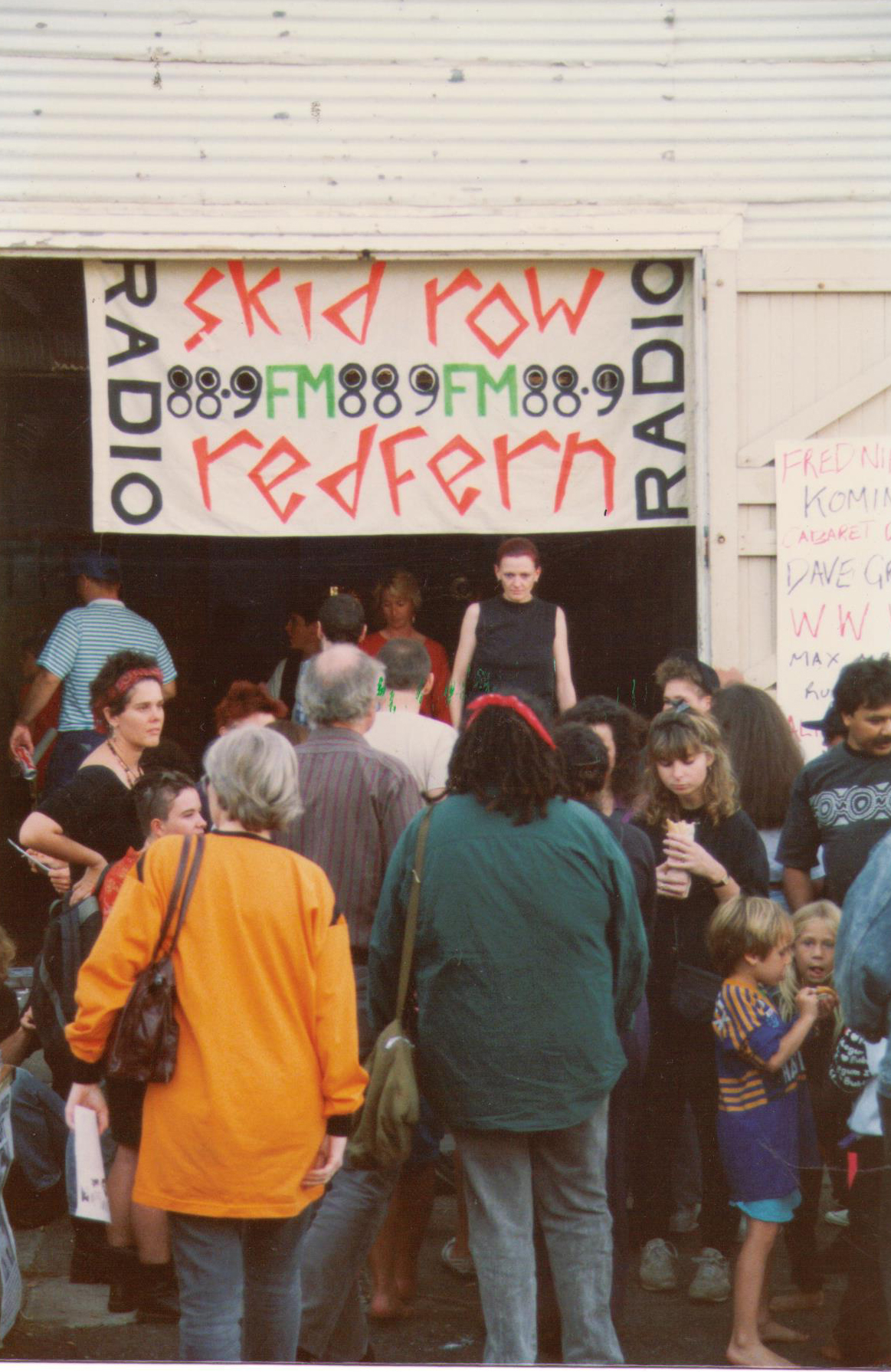 Radio Skid Row is an activist, grassroots community radio station that began broadcasting in Warang/Sydney in 1981. We have over 40 programs broadcasting in 16 languages speaking about everything from disability justice to workers rights, playing reggae, hiphop and music from around the world as well as from our community.
We currently have over 80 broadcasters, 3 part-time staff, 8 board members and countless hard-working volunteers whose passion for the power of radio is what has kept us going. We broadcast on 88.9 FM and stream online via our website. Listeners can find our archive on sound cloud.
Our Board
The board works in sub-committees to support key projects and the strategic operations of Skid Row. These voluntary board members are made up of community members and broadcasters.
Co-Presidents: Huna Amweero & Lima Peni
Co-Secretaries: Caroline Pryor & Lauren Booker
Directors: Dorothy Tuagalu, Simeon Georgievski
Finance Committee: Iakovos Amperidis & Alison Cheong
Our Staff
Station Manager & Ethnic Programs Coordinator: Raúl Hernandez | The station manager is responsible for the operations of the station including Work Health and Safety, Transmission and Logistics. As the Ethnic Programs Coordinator Raúl also supports and manages the 17 multilingual community programs and teams. Email raul@skidrow.com.au
Accounts Officer: Irene Shuele | The Accounts Officer is responsible for the financial operations of the station including projects, operations and ensuring Skid Row operates within its budget. Email: accounts@skidrow.com.au
Fundraising Coordinator: Jack Poppert | The Fundraising Coordinator is responsible for planning, running and coordinating the annual fundraiser, subscriber drive and business sponsorship. Email: support@skidrow.com.au
Our Broadcasters
Our broadcasters come from all walks of life, ages, countries and professional backgrounds. We have professional DJs and long-time skid-rowers who've been broadcasting since the early days; young people playing the music they love as well as a range of current affairs shows discussing local and international news.
Our broadcasters are largely volunteers who generously give of their time and talents to make the Radio Skid Row what it is today. Where broadcasters are paid it is through project grants. Radio Skid Row works hard to offer our broadcasters training, support and opportunities. Find out more about our broadcasters on our Shows page.
Our Mission
(from the 2019-2020 Annual Report)
To engage the most marginalised communities in community broadcasting to promote social justice, civil and human rights. These include members of indigenous and ethnic communities, women and gender diverse communities, young and old people, people with disabilities, poor and working-class people and other groups which are not adequately represented in Australian Media.
Our Strategic Plan
2021 Annual Report
In the Beginning
Radio Skid Row began with test broadcasts on a landline to Long Bay Jail. It first went to air as a fully licensed station in 1983, broadcasting to the most marginalised in the community. The first broadcasters included members of the Indigenous community, the Communist Party, migrant workers committees, squatters, prison activists and young people.
It was obvious from the beginning that Radio Skid Row was going to be unique. For a start, Skid Row allocated 20 hours of airtime to the local Koori community. These programs became known as Radio Redfern and developed into a partnership between Indigenous and non-Indigenous broadcasters. The station called itself the Skid Row-Radio Redfern Connexion, and an Aboriginal-owned studio was built in Redfern, with a landline connecting it to the main studio at Sydney University.
Activist Roots
In 1988, during the Bicentennial protests, the little Redfern studio managed to coordinate the crowds descending on Sydney and broadcast the protests to the rest of Australia. A group of Brisbane Murris who were helping out with the broadcasts were so inspired by what they saw that they decided to set up their own station in Brisbane. 4AAA Murri Country grew out of this idea and was managed by Tiga Bayles, one of the founding members of Radio Redfern and a former chairperson of Radio Skid Row's board.
'The Radio Skid Row-Radio Redfern experience gave me the passion and commitment to continue working in the development of Indigenous media in Australia. At Radio Redfern, I realised the power of radio in breaking down barriers and developing understanding in the community. Most importantly, we were able to create a space that was Indigenous-owned and controlled,' said Bayles.
Radio Redfern later evolved into Koori Radio, which continued to broadcast on Radio Skid Row until they applied for and won their own city-wide licence.
Supporting Diverse Communities
Ethnic broadcasting has always been high on the agenda for Radio Skid Row. Like the Indigenous broadcasters, the early ethnic broadcasters built their own studio at Leichhardt. The Migrant Workers Committee, which was made up mostly of workers from the Eveleigh railway workshops, was a fixture on air after knocking off from their shifts. They were also active on the station's board.
However, back in 1983, the first management board wasn't so sure about the push for Indigenous and migrant airtime, nor were they comfortable with the idea that those groups should have significant numbers on the board. They were also nervous about the activists, squatters, artists, ex-prisoners and feminists who were involved.
After one year on air, the struggle between the workers and the original management came to a head, with the management shutting the station down and locking the broadcasters out. Public protests started the next day on the street outside the Wentworth Building at Sydney University, where the station was then situated.
While the station was only off the air for a few weeks, it took five months of negotiations, campaigning and persistence for the workers to finally sack the first management board and take over the running of the station. From then, the station grew into one of the most significant forces on the community airwaves in Australia.
Radio Skid Row Today
Today Radio Skid Row continues its radical approach to radio by giving a voice to refugees, new, emerging communities, young people and Indigenous communities. We have delivered training in five countries and regularly have international visitors coming to learn more about community radio.
Radio Skid Row continues to be a place where a diverse group of people can be heard. From the young broadcasters sharing their love of rap, hip-hop or poetry to our long-standing broadcasters advocating for workers' rights or sharing local community initiatives. With over 16 community languages we are home to a wide range of Pasifika, African, Latino, Middle-Eastern and Asian programs. Radio Skid Row is also the only station in Australia to broadcast the award-winning US current affairs show, Democracy Now!, daily at 9am.