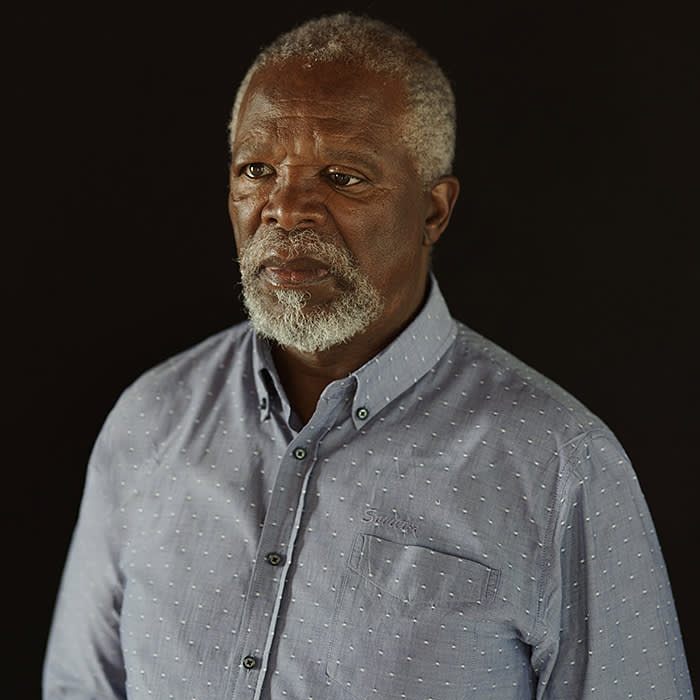 One of South Africa's most famous actors talks with Paul Thusi in 1994.
'It's a pleasure to be with you today, and I would like to say it is a great honour for me to tell you I have a real live native here at the studio with me from South Africa by the name of John Kani. But I am bound by custom and tradition not to address him by John Kani, since he saw the sun before I did. So customarily I am to address him as 'big brother', which in our vernacular is 'bhuti'. So to start with, I will have to tell Bhuti, who I am, where I come from, since I have never met Bhuti in the motherland. So Bhuti, my name is Paul Vulindlela Thusi, the son of Benjamin…'
John Kani is a renowned South African actor, director and playwright. He is also currently the chairperson of the South African Council of the Arts. He is most famous for his work at the Market Theatre in Johannesburg. From the tribe of the Xhosian in the Cape Province, John Kani – or Bhuti, as Paul Thusi says we must call him – was born in 1943 in Port Elizabeth. Paul spoke with John Kani while he was in Sydney performing in Athol Fugard's Playland.
Their conversation is an interesting insight into two men who share a motherland and a struggle that is at the heart of Afrikan Connexions. Yes, they laugh and share jokes, but Thusi's questions do not invite simple answers, especially when it comes to the role of Athol Fugard – a white man – in South African theatre and the matter of 'forgiveness' for the ills of apartheid.
During the interview, Kani talks a lot about the problems South Africans faced when it came to their dreams, whether they were inside the country or in exile. After playing a track by Miriam Makeba, Kani explains that the song reflects the hopes of a South African in exile and their constant longing to return home:
'There was one thing that kept every South African [in exile] alive, it was the dream that one day I will go home, one day I will be amidst my people, one day I will stand in front of my father's thatched house and be a child again and play with my friends. So Miriam says my heart is full of pain as she still remembers her father's home.'
The stories of his own dreams as a child, to become a lawyer, are underpinned by the same problems almost every Black child growing up in a white world faces. Again and again, the greatest Black minds tell the story of the moment they were told they could not become a lawyer, a doctor, a President because they were Black.
Kani explains,'When you were young, a little boy in South Africa, it dawns very quickly on you that you are Black, you are not White, and that your dreams are things only when you've got your eyes closed. When you wake up in the morning you've got to wake up to the reality of the harsh Apartheid system… and your parents wake you up very quickly and say, "don't dream, you will be what we can afford at the time."'
It was this limited circumstance that led Kani to acting. After his brother was arrested and sentenced to five years on Robben Island for being a member of the ANC at his university, Kani was forced to work rather than become a lawyer. Eventually, he joined a group of actors called the Serpent Players, and later went on to be the Director of Arts at the Market Theatre, winning several international awards for his work.
Listen to the full John Kani interview.